That is how it looks like once you download it.
I will go through some of its options and components.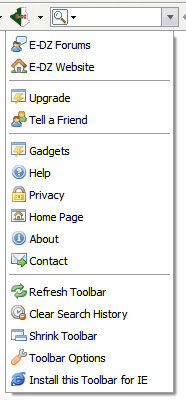 This is the main button which is linked directly to the main e-dz page. It also has a list of other important links related to the site and the toolbar.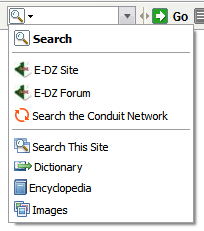 The search function would automatically use google to search, it also gives you the ability to search within e-dz site, forum or any other site you are on. Extra sites are listed at the bottom such as dictionary, images and encyclopedia as quick links.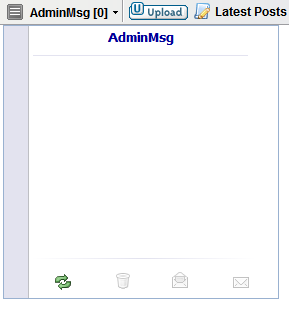 AdminMsg is a message box which the admin (me) can send any type of message or announcement and it wont show up in that box for users to see.
Upload button will pop up a small window which will take u to the photobucket login (and u can use the e-dz login) and then take you to the uploading page where u can upload an image or even a video and once done it would give u the link to it right at the bottom. All this is done within the small pop up window.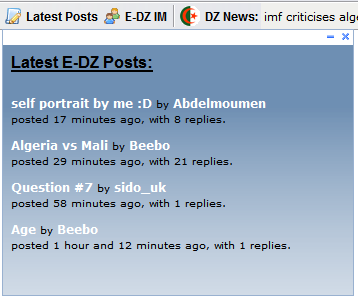 The latest posts button will show you the latest five posts, by who it was posted and the time of the post.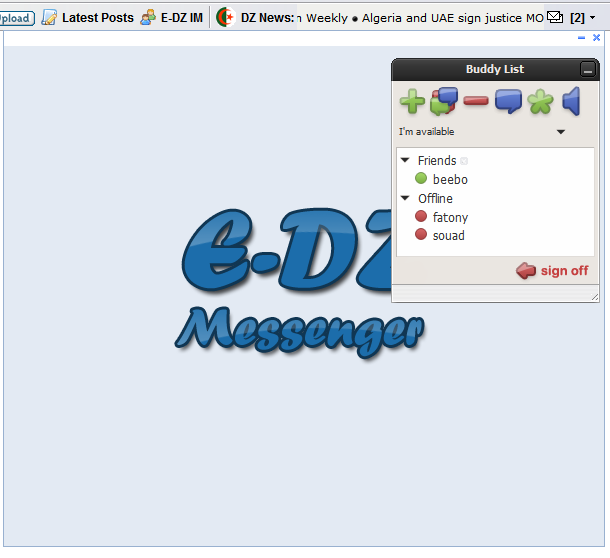 E-DZ messenger is a new cool feature whereby any member can register (takes 2 seconds) and have it up while they are surfing. If the small window is in the way no problem, u can minimize it and move it anywhere around the screen so that it doesnt bother you. The messenger has sound notification so when ur signed in u will know someone is messaging you even if your small window is minimized.

Lastly, we have the Algeria News ticker.. it is updated automatically giving you the latest news about Algeria.
There are more features like radio, email, and so on which you can setup on your own. I hope you will like it and use it constantly, because if you do you will be helping the site out to get some income and keep it running.
To download it:
Firefox:
Download Link
Internet Explorer:
Download Link
Thanks guys