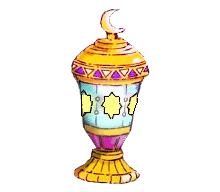 Fawazeer Ramadan 2013
Saha ftourkom everyone
How is it going? 
For the second time, we'll be having Fawazeer Ramadan here in
-
It's simple enough: 
*-*Each day, a question will be asked in Islamic topics to go with the Ramadan theme, of course. 
*-*The one who has the right answer will have a point,
by the end of Ramadan
we will count the points of all participants and
*-*the one with the biggest number of point will be the winner!
Here we go with the first question:
 1. Who established Arabic as the official language of the Muslim world?
Bitawfeek inshaalah