knock knock ....
.gif' class='bbc_emoticon' alt=':)' />
salaaaaaaaaaam alikum
here I am, and I just came back home ... well , after what happened with the 1st sos , and as chouia explained , many people here told me , no trust in sos of newspaper ... ok , ma3lish ,so I decided to find a solution to reach the ill people in hospital... after asking , hamdullah my ferind shows me the center called "établissement hospitalier spécialisé dans les traitement des brulures " ... let's say : "Hospital specialized in treatment of brulures" .... there are lot of people (children manly) from far cities from algiers.
we wait alot to talk to the head of the center ... I told her , we are here to donate and help people and tryed to explain her ...then she told me that the most needy there for both child and old are napies , sinice they are masaken burned and can't move ..
plus the cost is very expensive manly for the older (expensive and they need it daily) ...
another point that this head talk about , is , they are going to oppen a library for children there, because children pass alot of time (months) there , and they need leisure , so she asked us , that we can help with book.
so what we are going to do me and my freind , next day or the day after tomorrow , is to buy as much as possible this nappies. and give them to people there ...
I tryed to take a picture , but it's very difficult , because there is agents every where ..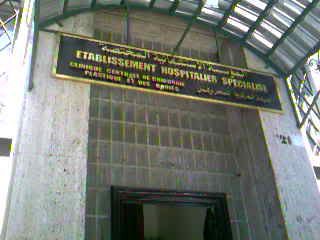 what I noticed during these days of looking and asking , i's very difficult to deal with medecines here in algeria as particular... u can do it only if you're association or organisation with "papers" .. but I tryed to find a solution of how do with the money ..
I didn't saw alot today ... but what I saw hit me alot , guys .. let's say a big hamdullah ... and ya Rabi eshfi elmardha
I will try to take more pictures the next time ... but as my freind told me , what can people see in these msaken patients ... anyways , I want to thank my freind , who helped me alot , she did very well !