This new program targets 10 key academic skills for TOEFL iBT success
TOEFL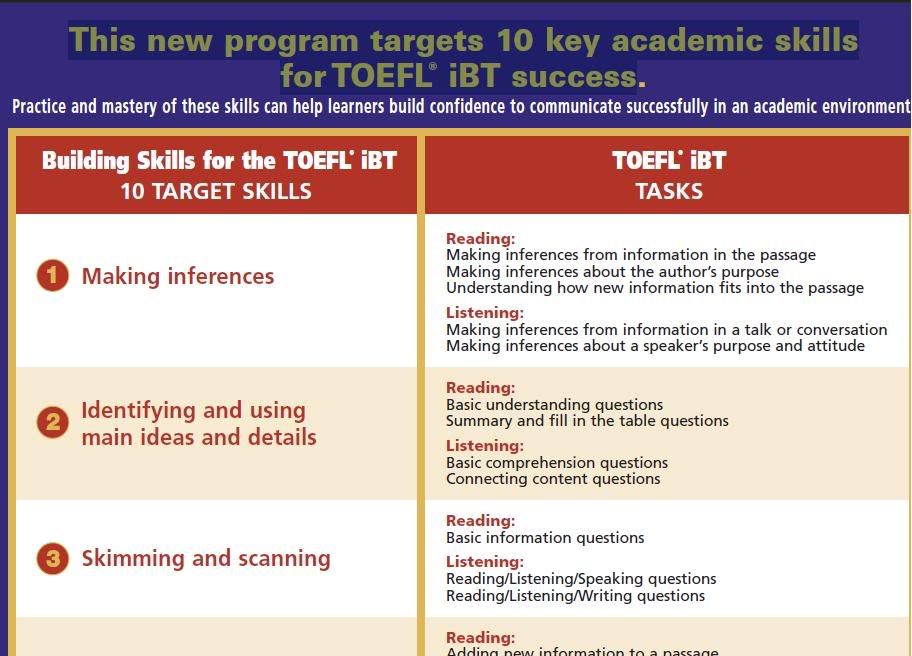 and these are other tips I found on:
Successful Toefl
Tips For TOEFL Test TakersTOEFL is an exam required for foreign students. Before taking this test you are:
1) Begin preparation to the exam early. It is simple, but effective. The more you read, and the more attention you pay to it, the better results you will have.
2) Purchase some CDs such as Kaplan or Cambridge and practice at least three tests; to be aware of the format itself.
3) If your knowledge of English is poor, you can buy some practice test books for frequent practice and higher confidence in your abilities and skills.
4) If you have tasks from the reading section, you should be able to speed-read. For this purpose you should read a page in the shape of the letter "S." Do not read whole sentences, but pay attention to keywords and concepts while looking through the paragraphs.
5) It is difficult for people whose native language is not English to understand American, British, or Australian accents. Thus, it is effective to have audio sessions with either CDs or audio cassettes. While listening to an extract you should repeat the listening practice modules in books and CDs several times.
6) You will have less problems with understanding native English when you watch shows on the Discovery channel, CNN, BBC, and the National Geographic.
7) When you take the Internet version of the test, you should practice your speaking too. Thus, you should be well informed in terms of required sphere. To see how you have understood the material, you will be asked some questions.
8) To see how well you understand the material, watch streaming content on the Web, or TV shows concerning situational understanding such as sitcoms, nature shows, and any source that will increase your creativity and ability to understand main ideas.
9) Frequently, problems arise with the writing section of TOEFL. The reason is little writing practice. Remember that practice makes writing style and technique perfect. If you read much, you will write better. Apply to a good writer who corrects your style and errors in grammar, spelling, and proper apply of vocabualry.
10) For good test writing you should constantly improve on structure and grammar use. It is effective to buy a school grammar book and test your grammar skills. Early beginning will be effective for good test writing.
Remember that you should send a registration form in advance. The computer-based exam can be taken no later than in September 2006. Find a center that provides you with a possibility for taking the paper-based test.

Before taking a TEFL Course, you should determine what your goal for taking it is. It may be a career development or a teaching job abroad. If you want to have a career development, it is better to achieve master's degree than to choose a certificate course.
If you want to have a well-paid job, you need an advanced degree either.
After determining a goal, you are to choose a course by its location. It may be an online course or course in America. Frequently, it is better to learn English in a real atmosphere. You will learn how to teach and get acquinted with a foreign culture. Do not forget that TEFL programs take much time and you have little time for sightseeing. If you plan to stay abroad longer, take some extra money with you to pay for your living. Ask other people about programs you have chosen. If they meet your expectations and you have heard positive evaluation of this course, take it. Find a job abroad, if possible.
Various courses offer you achieving various skills. Some attract students by promising them a job after graduation. While learning yourself, you learnt to be more flexible, patient and persistent. You will have a chance of teaching yourself and immersing into a foreign culture.